One of the busiest streets of Bratislava Obchodná Street stretches from St. Michael's Gate after Kollárovo Square.Years ago at its lower side there was Schöndorfs gate, called after suburban municipalities Schöndorf, which occurred here.

In the 13th century there were living Hungarian ministers of the Castle, later there were living mostly vintners. Therefore, in many houses were built cellars for storing fluid.
Not all of them are preserved. The vintners could sell their own wine only in exact time and with certain conditions.

After World War I, the population structure of the Obchdoná Street greatly expanded, it became a busy commercial thoroughfare, settled here merchants and craftsmen.
O´Obchodná (Schöndorfskej) Street stood the house of Matthias Ebeczkého, where was born in 1578 the rebellion against the city council. At the head of the revolt was Ulrich Hauser. City Council was saved only by governor and a castle garrison. The investigation took a year, rioters were sentenced to death, but they finally pardoned on condition that they had to sell out of all their possessions and forever emigrate from Pressburg.
The cause of the revolt was the fact that the city council did not allow citizens to have wood and fished.

Pawnshop, inns, vineyard
ON Schöndorfs Street there was located first pawnshop in Pressburg, which was established in 1772. At the time of Korabinský there was Black Eagle pub in 1781, for today's Golden Deer. There was a Post Office also, on this street. On the left side, there was the domestic vineyards. There was a pub named Crown and on the corner of Drevená Street (left towards the center) was Buck Inn.
Patient association
Today, it is the general Pressburg Patient Association, which aims to promote the disease its full members, provide them with medical assistance, medicines and other necessary medical resources and death give survivors a funeral allowance.
Schools for Trade
On this street, on the corner of Main Square is Girls' boarding public elementary and council school, which has an excellent reputation. The school has established by Žofia Urbauerová in 1857, after her death it took her daughter Malvina Urbauerová and the end of her life led with great erudition and professional diligence.

• In the 18th century was on this street Protestant elementary school which was established by Martin Betran. The school was attended by 60 children, boys and girls. The school was moved from house to house. In 1769 Kitts Buchhofer taught here. After him older students taught here and fot two years a tailor Juraj Wegner. In 1773 he was a teacher James Gross.

• At the beginning of the 17th century, a short time served yard Schupfnerovho house on Commerce Street as prayer for evangelical believers.

• In 27th of July 1683, the Thököliho´s army fired Obchodná street, who was linked to the Turks.

• Street had several public wells.

• Attention should be paid also on first Pressburg Gardening that belong to Michael Bruckner, who excelled especially growing roses.

• On the street were two endowments houses- Ferdinand Lang and Samuel A. Royka.

It was published in the printed edition of SME.
© 2004 Petit Press. All rights are reserved and may not be published. Reporting license reserved.

Portal obchodnaulica.sk offers you together with Juraj Bartos (bphoto@chello.sk)

professional photographer and author of unique historical

Photograph of Commerce Street in Bratislava, a selection of historical perspectives

this favorite street in the Bratislava´s center.

Amazing and inspirational photo book,

THAT will be Never published in paper form!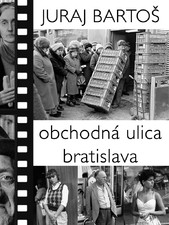 The book can be purchased HERE
Juraj Bartos as a photographer has always been more interested in people
the full range of their speech than his own artistic self-expression.

The author presents in this book photographic work of its largest project Dokumentaristicko
eighties - Commercial street in Bratislava.
Once again, the central theme around freely grouped several photographic series,
which it approached from different angles.
The center of the author's attention has been given to those who "zaľudňovali" the
street - passers pedestrians, people waiting at the bus stop, passengers on a tram,
residents of some houses on the street.
In addition, it held a street architecture, layout and equipment courtyard,
showcasing and furnishing stores, interior selected apartments.
Bartoša then and today above all attracted to the variety and diversity of human existence.